From: Jeff Anderson, President
The International Society Of Close Quarter Combatants (ISCQC)
Dear fellow patriot,
Forget all you thought you knew about survival kits!
You were probably advised to put one together for an emergency, right?
Well there's a good reason for that.
You see, whether it's a natural disaster due to wildfires… flooding… hurricanes… or even man-made catastrophes like a toxic spill… nuclear reactor meltdown… or power grid failure … you and your family could be forced to evacuate your home at a moment's notice.
When that happens, your neighbors will be running around like Chicken Little trying to scoop up their clothes, food, and an assortment of useless items, wasting valuable time!
When a disaster is coming your way and you're forced to evacuate your home (aka "bug out"), you don't have hours… you may only have SECONDS to get out of Dodge!
That's why you need a "bug-out bag" – a ready-to-go pack with the critical survival items required to get you and your loved ones to safety no matter what crisis you face.
In fact,
Not Having A Bug-Out Bag Is Like
Walking Into Combat Without A Gun...

...You're Asking For Trouble!
Look, there are 3 types of people as a result of a disaster: victims, (real) survivors – and zombies!
No, not the "walking dead", flesh-eating zombies.
I'm talking about the starving, shocked "What do we do now?" knuckleheads who are relying on the government to swoop down and rescue them.
Sorry my friend… not gonna happen!
In fact, the last place you want to be in a crisis is packed into some shelter or FEMA camp with thousands of other desperate, panicked citizens waiting for your handout of cookies and hot chocolate.
Tempers flare… possessions get stolen… diseases get spread… riots can break out… and there have even been reports of rape and assaults at these so-called "safe havens".
Would you really subject your family to this dangerous environment?
Or course you wouldn't! No self-respecting "protector" would!
That's why NOW is the time for you to prepare your gear so you can transport you and our family to a safe destination when you decide it's time to get out of Dodge.
Yes, I'm talking about your "bug-out bag"
But I have a stern warning for you…
If you think you're just gonna go and Google around the interwebs and copy down some bug-out list from a forum post… go shopping… pack up your bag and… TAH-DAHHHHH – "instant bug-out bag"… you're flirting with disaster!
Please listen to me very carefully and pay close attention…
Do
NOT

Listen To The "Armchair Preppers" Littering The Internet About
How To Build Your Bug-Out Bag!

I hate to say this…

Much of what you've been told by the government or read online in articles and forums is pure hogwash.

Sure, I've found some really great, hardcore preppers who "walk the talk"… but even these guys know that most of what people write about bug-out bags is all "theory" and not based on how things REALLY go down when you're on the run!

We call them "armchair preppers"

.They mean well… but have never had to actually use all that heavy gear they say you should pack.
Imagine walking a mile with your bug-out bag with your back and shoulders burning, not sure if you and your loved ones can go any further.

Even worse, following the wrong advice could even get you or a family member killed.

I'm dead serious and here's why,

Because the more gear you carry, the more of a target you are to those who see you as having "things" they themselves will want.

They'll spot you a mile away… and either beg you to share your "extra" supplies… or simply attack you and take it by force!

I don't want that to be you!

The truth is, you'll never even see the true survivalist!

They travel light and are virtually invisible – undetectable by military, law enforcement, looters, and post-disaster beggars who have no clue about the preparedness secrets they hide.

And these are the exact same secrets YOU are about to discover because…
Here's All You Need To Know About
How To Build The Ultimate "Bug-Out Bag"…

…Plus 27 More "Insider Secrets"
Even The Prepper Pro's Don't Know!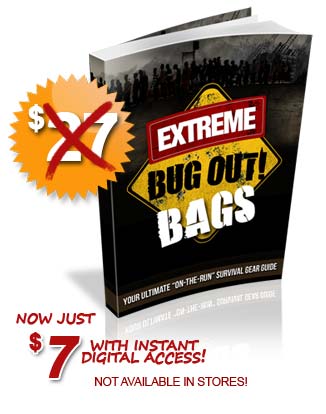 Look, I've read a bazillion bug-out bag books.
Nearly all of them follow the "more is better" approach and tell you to pack everything but the kitchen sink.
Others I just shake my head at in disbelief at how horribly wrong they are and how anyone that follows their advice is in for a rude awakening the very moment they have to go into action with the gear they have packed.
Can you really afford to carry gear you don't need… or forget the gear you do?
This is why it's so critical you know exactly what to pack and why.
That's exactly why we created our "Extreme Bug-Out Bag" program.
To give ALL levels of concerned citizens the definitive guide to pack the mission-critical survival items you need without all the added "fluff".
In fact, I have an important message for you if you're wondering if "Extreme Bug-Out Bags" is for you…
Don't be afraid if you're just starting out – You don't need to be some "Doomsday Prepper" to get this and we'll cover all the basics you need to know so you don't get overwhelmed.
Don't be a fool if you're more "experienced" – even if you already have a bug-out bag, you're about to discover several items you hadn't even thought of packing before…and any one of these items could mean the difference between life and death for you or a loved one in a disaster!
Whoever you are, this comprehensive guide will make certain that you're fully prepared during bugging out and that you have everything you need for your survival.
Here's Just A Small Sample Of The Critical Survival Information You'll Discover In
The "Extreme Bug-Out Bag" Program,

The truth is this type of information, despite being so crucial for survival, is extremely hard to find.
You'll be gaining a depth of knowledge and getting insider tips that could dramatically increase your chances of survival and your ability to protect those you love.
It's really hard to put a price on that, isn't it?
In fact, due to its incredible value and the time and effort put into development of the "Extreme Bug-Out Bag" program, we were originally going to have to sell it at $27 to cover our costs.
But if you act today you can grab your copy for only $7!
No that's not a typo,it really is just "seven dollars"!
But now you're probably asking yourself…
"Why Is This Critical Survival
Program Only $7?"
You're probably wondering why we would practically hand you such a valuable addition to your survival library for such an insanely low price, right?
Well, 3 reasons actually,

It's an instantly downloadable, digital ebook so we don't have any shipping costs. That means we can pass our savings on to you and you can get instant access and start reading the entire guide just minutes from now!

We're looking to expand our own network of "true survivors". $7 is well within the reach of 95% of those who could really use this information and not only can we continue to share more survival tips with you,but we can also learn from YOU in hopes that you'll contribute to our community of fellow survivalists!
And finally...

To be honest, it's sort of a "test"! You see, we realize that not everyone thinks ahead like we do. So we feel that if you're not serious enough to spend just seven measly bucks on something so critical to protecting yourself and your family, then you're not really "one of us" and we'd rather part ways now.
No hard feelings,no judgement,no teasing,that's just how we see it and you're welcome to click away right now and ignore this special deal.
Now I should warn you that I can't promise how long this offer will be on the table. If you come back tomorrow and the price has gone up, don't say we didn't give you fair notice. Deal?
And to make this a real no-brainer for you, we're even going to extend to you a "test drive it yourself" for up to a full 60 days!
My 100% Money Back Guarantee
Promise To You...
That's right, you don't risk a single penny!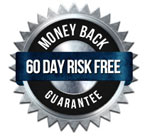 I'm so sure that you will be thrilled with the information and knowledge you get from "Bug Out Bag" that I want to offer you a no-hassle 100% money back guarantee.
I want you to be totally confident with not only your purchase but with the insights you will gain from the course and that after going through the course you will know exactly how to prepare an exceptional bug out survival bag.
If for any reason or no reason at all you're not satisfied with the course simply contact me for a prompt and courteous refund.
No questions asked. That's my promise to you!
All you have to do is click the Add to Cart button below and after entering your payment details you will gain instant access.

Now I should warn you that I can't promise how long this offer will be on the table. If you come back tomorrow and the price has gone up, don't say we didn't give you fair notice. Deal?
And to make this a real no-brainer for you, we're even going to extend to you a "test drive it yourself" 60-Day Money Back Guarantee so you don't risk a single penny.
Don't wait! Order your copy now and get instant access to these amazig bug-out secrets!
Yours in survival,

Jeff Anderson
President
The International Society Of Close Quarter Combatants
P.S. Remember you are backed by my 60 day no questions asked money back guarantee. I'm taking all the risk. Get the program and go through it and if you're not completely satisfied you can get a full refund. There is no risk on your part. To get started just click here to order and download the entire program right away
P.P.S. Don't risk wasting your good survival intentions with poor preparation. This is a life or death scenario with real consequences. Make sure your equipped with the right knowledge, strategies and know how to fully prepare your bug out bag for your safe escape.